---
---
Published by Mike W on September 14th, 2009
Well, you should know by now that I spent the end of last week with some fellow bloggers and our dear friends at EA Games. I was invited to the Third Annual My Sims Blogger's Day at their Redwood Studios. It seems that all my bitching about never getting invited to conferences or events paid off. That means that you can expect much more of said bitching and moaning. I mean, it worked, right? In fact, I think Tokyo Games Show is coming up and I've yet to receive an invite…I digress though. I'm here to talk about the event and people that decided to show some love to The Spin, as well as give you some sneak-peak hands-on previews of the games I was able to get my hands on. It's going to be quite the week y'all (you like how I invoked my inner Brittney??), so make sure you have your dancing shoes on!
Let me really start off by saying that I was going to post one of the many BA pictures that I took of my time at EA, only I think my digital camera from like 8 years ago hates me almost as much as my laptop might. I think I have like 3 pics that are salvageable, which actually sucks. Especially since google has made it painfully obvious that the rest of the bloggers had hi-tech equipment. (Side note: I was taking notes on my iPod. Have you ever done that?? It's ridiculously hard to do and pay attention to what's going on. Others had netbooks, voice recorders, or even just working laptops. Not me though, I stayed classy with my iPod Notes and the first digital camera ever made.) So, yeah, nothing has changed despite the fact that I now get secret tours into the inner sanctums of The EA Laboratories. And by secret tours I mean the same tours that are given at least 5 times a day by the same lady who does them and who probably uses the same script every single time. And by inner sanctums I mean a few conference rooms and the EA lobby. That's right, I'm big time now suckers!! I did get to the EA "Experience" Store, which was pretty cool. You could get games on the cheap there, of course they were only EA games, which actually makes sense. I almost got Madden 10, but didn't. Don't ask me why, I just didn't. I did get The Sims 3 for Mrs. Mike though, and I'm impressed so far. Of course, I'll be more impressed when I take my Sims Adventurin' around The World (more on that later in the week). It wasn't all stick shifts and safety belts though, there were definitely some things that I was not all that impressed by. These were mainly the DS titles that were shown, and I can put that on the fact that I have no love for the DS. Maybe it's just me, but I just can't see myself playing a hand-held, I'd feel kinda lame. Not that I'm saying that people who do play the DS are lame, it's just that it would magnify my already fairly significant lameness. Yes, I'm rambling now…
So, the title of this post seems to imply that I'll be giving you a preview of the week that I have planned. Of course, that would take me having a plan, and I think you all know me better than that. I feel like mixing it up a bit though, so I've made one. Kind of. Well, I have like 10 different notes on my iPod and more information in my head than I know what to do with and I have to get it out, so that's the plan. During the course of the week you'll be getting my preview of My Sims Agents, Nerf 2: N-Strike Elite, Spore Hero & Spore Hero Arena, and SimAnimals Africa. I'll probably be delivering tidbits on the Sims 3 Expansion pack, the process of Simlish (which is freaking hilarious!!), and thoughts on all that I saw while at EA.
Let's have some quickfire opinions for right now though, just for kicks!! My Sims Agents looks really good and I was very impressed by the pure enthusiasm and excitement that producers Rachel Bernstein and Geoff Mitchell had for the game. It seems that the title could be the perfect evolution of the Sims & My Sims universe. N-Strike Elite was also impressive. The blaster included with the game felt like it was more than some cheap piece of plastic, and Red Reveal actually worked. Spore Hero was a game that I knew nothing about going in and I was surprised by it. I'm not saying it was a shock to see, or that I loved the game. The game was visually very nice looking, and it looks like Aaron Krause and the rest of the development team are pushing the Wii hard. Then there was SimAnimals. I really don't know what to say about it, so I'll wait until I do my full preview. I will simply say that I don't get it.
Yeah, I'll stop at that for right now. Okay, so I think we've got a nice full week planned out. It should be fun. Not fun like The "GameTruck" fun, that was just awkward. If you don't know what I'm talking about, allow me to divulge. The Game Truck is a truck that will drive to your location and let you play games. It comes packed with like 4 or 5 widescreen HDTV's, all the game consoles, and controllers to play with. Yeah, it sounds awesome. In theory it is, until you get in and realize after like 5 minutes that you're in a what amounts to the back of a van with like 14 other people and it's dark and cold and uncomfortable. I really have no idea who would say, "Yeah, let me get that" and enjoy it for more than a half hour. I'm telling you, it was kind of creepy. So, I'll leave you with the thoughts of creepy vans (I even have a pic or two of the action, though they don't do it justice) and EA Game's floating in your heads as well as the opening cinematic for Spore Hero. I just realized that this preview of my previews is more than 1000 words, you guys better appreciate this! Enjoy, and stay thirsty my friends.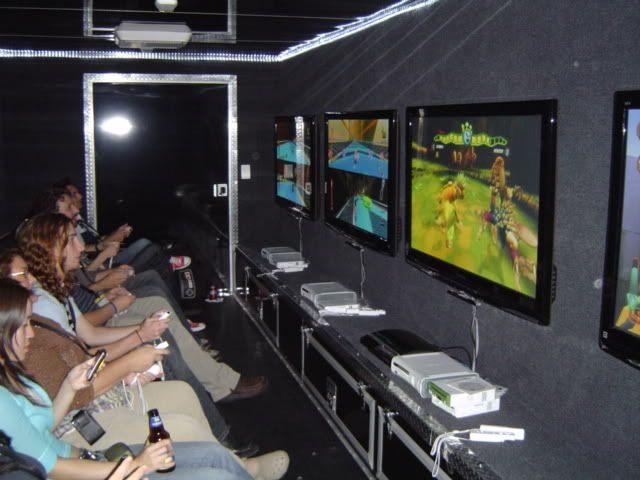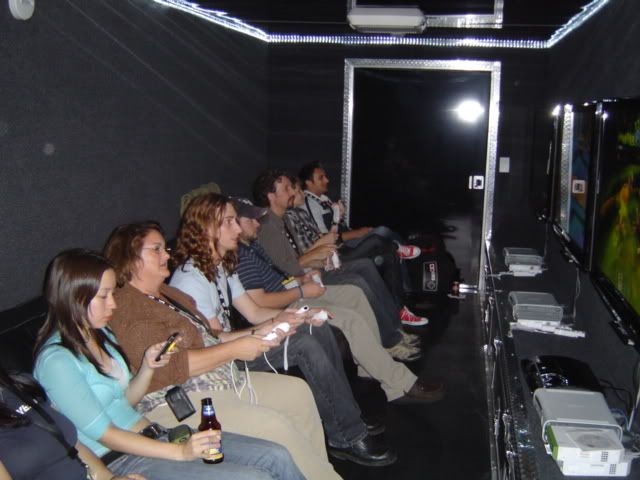 ---